From spotty to flawless in days. Make up looks amazing and I use a lot less.
Lisa, Skin and Beauty Specialist
For more information on CrocodOil Pure and White Croc click product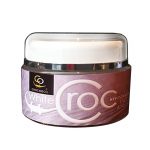 ---
Background
From a teenager my skin has been prone to react badly to hormonal changes. In winter my skin dries out and invariably becomes quite red and flaky. But it's during the summer that my skin really reacts badly to heat, going from to dry and flaky to greasy and painfully spotty in a matter of a few days.
My skin was so bad at one stage that my dermatologist prescribed Roaccutane which I wasn't really happy taking.
I lead an active life and running around after my daughter Emily, having my own business and up keeping a home can leave me in a bit of a sweat.
And, Yes it's my skin that first bears witness to my hectic lifestyle. Spots are a real problem and over the years have left me with some facial scarring as well.
Luckily I am a beauty therapist and I know how to disguise the blemishes. However as time goes by I have begun to notice that make up has to be applied just that bit more liberally to maintain a flawless look.
A friend told me about CrocodOil and explained that it had worked wonders for her family's skin problems and that it might work for me.
I have been trying a combination of the Pamper face cream and Pure 100% Crocodile oil. I have also tried it out on several of my clients all of whom think the oil is fantastic. I use the face cream in the morning and last thing at night and a few drops of the oil during the day if there are any flare ups.
Timeline
Day 1.
6.30 am. I got up early and washed and gently patted my face dry.
I then applied Pamper face cream all over my face and neck and then spot treated areas with a few drops of Pure CrocodOil.
9.30 pm. I applied the face cream again after gently washing and drying my face and again spot treated specific areas where I needed to.
Day 2.
In the morning the red, painful spots had virtually gone.
So I repeated the same process as the previous day.
Day 3.
My complexion had cleared quite dramatically and the scarring had really become a lot less noticeable.
Comments.
My skin feels healthy and youthful again. My make up goes on so smoothly and evenly that I am using a lot less than before. My scarring is still reducing all the time.
One thing is for certain, as Emily grows up and if by chance she inherits my skin concerns, it's Crocodoil that I will be using to help her keep looking every bit as cute as she does today.
Note: from CrocodOil: People's skin can vary, so please
try a little to make sure it works for you.
You might like these products...