CrocodOil have created a high intensity range of skin care products that are so pure and gentle, the whole family can use them, even those with sensitive skin.
All Crocodoil products contain the highest levels of pure crocodile oil possible, which increases the speed in which your skin will repair. Regardless of age or skin type there is an oil or cream that will help to sooth and calm the most irritating skin conditions
The oil absorbs quickly into your skin and leaves it feeling smoother and healthier. The oil is not sticky and contains no parabens, neither is it diluted with other oils or chemicals. What you get is nature at it's
rejuvenating best!
CrocodOil answers all your skin needs.
The people below have all relied on our oil or creams to answer their skin conditions. Check out the results, you'll be amazed.
Blotchy dry skin on hands
Sore scaly skin plus itchy toes
Dry, painfully cracked heels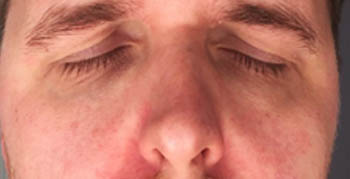 Blotchy dry skin on face
Spots and acne
Red spotty skin
CrocodOil transforms skin – transforms lives
CrocodOil perfect for all ages, skin types and lifestyles. Click to see what more CrocodOil can do.
"Charlie's Nappy rash was gone the next morning and he slept so well"
Dr Alison Watson
"My daughter is having a baby soon. She has been using Crocodoil on her tummy and there are no stretch marks"
Jill, expectant grandmother
"My wrinkles seemed to disappear as well as the dryness around my eye lids"
Joan, former midwife
"I use the oil on cuts and bruises and when giving clients a deep tissue sports massage. The oil reduces aches and absorbs quickly into the skin."
James Bantleman, Personal Trainer